Nothing compares to the excitement and satisfaction of traveling in a city with an efficient, economical, safe and comfortable public transport system. Whether you are a tourist, commute to work, go shopping, show friends around, or just explore your own city, a smooth travel can make all the difference. Let us take a look at the top 5 African Cities with the Best Public Transportation.
Cape Town, South Africa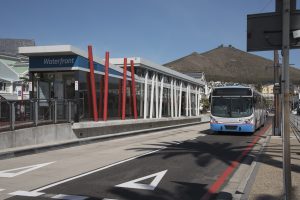 The administration of Cape Town has been working relentlessly towards upgrading the public transport facilities of the "Mother City". Let us have a look at the major public transport options for Capetonians.
MyCiTi Bus Service: MyCiTi is a new substitute to an old and modest bus network in Cape Town, by the name of "The Golden Arrow". The modernized buses of the MyCiTi bus network offer safe, reasonable and excellent bus transport to the city center and a number of other popular landmarks.
Myconnect Card: This card system allows passengers to maintain a balance on their Myconnect bus card to steer clear of long queues at the ticket kiosks. This makes for an effortless and smooth ticketing experience for the passengers.
Metrorail: Metrorail is the most popular means of transport for Capetonians. It offers affordable access to destinations within Cape Town and most tourist attractions beyond the city, like Boulders Beach, Stellenbosch or Simonstown.
Mini Cab: This is the most comfortable and safest option for commuters, especially for those traveling at night. Provisioned to drop off the passengers at their doorsteps, these metered Mini Cabs can be conveniently booked over the phone.
 Lagos, Nigeria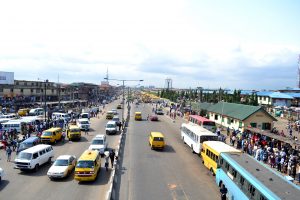 The burgeoning population and expeditious development of Lagos has put immense pressure on the city's public transport system. Lagos Metropolitan Area Transport Authority (LAMATA) was established in 2002 by the Lagos State Government to combat this pressure and strengthen its public transport setup.
Bus Rapid Transit System (BRTS): To help passengers fend off unsafe, illegal and arbitrarily charged minibus taxis, the Bus Rapid Transit System (BRTS) was introduced by LAMATA to provide fast, trustworthy and reasonable bus options to commuters in Lagos. The buses are painted red or blue and run on segregated priority lanes between the mainland and the multiple islands of Lagos.
LagosConnect Card: Along the lines of Cape Town's MyCiTi myconnect card, LAMATA has introduced the LagosConnect Card to facilitate quick and hassle-free ticketing for commuters who want to avoid long queues at ticket counters.
The Lagos Cable Car Project: LAMATA is also working on a new cable car system and construction work shall begin in 2019.
Going forward, LAMATA is further looking to implement a centralized public information and fare collection system, and creating new state-of-the-art bus terminals for a comfortable and safe traveling experience.
Other means of Transport in Lagos: The other means of commute in Lagos are – 1) 'Danfo' or 'Yellow Buses' that are ever-present and can bring you to certain suburbs where even the BRT buses or taxis would not go, 2) 'Keke Napep' or 'Tricycles' that mostly run in and around residential areas and markets, and 3) Ferries operated by the State Ferry Services Cooperation (SFSC) that ply the routes around the Lagos Lagoon.
Tunis, Tunisia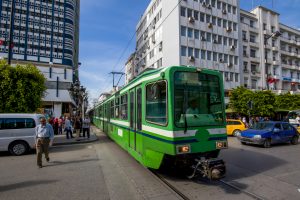 Tunis is well equipped with a wide-ranging public transport system that includes a metro, buses, taxis, ferries and trains. Let us have a look at the different ways commuters can get around Tunis.
Le Metro: A light-rail system known as le Metro connects the city center with its northern suburbs.
Buses run by Societe Nationale du Transport Rural et Interurbain (SNTRI) : SNTRI (pronounced 'sintry') is a national bus company that offers regular air conditioned buses from Tunis to all other towns in Tunisia. With more than 200 routes, the bus frequency and route coverage is excellent. The buses run on schedule, are affordable and comfortable at the same time.
Louages: Louages are shared taxis serving as the most straightforward means of transport for Tunisians. These taxis have a great frequency and can be easily located at bus stations or louage stations, with colour-codes for long and short distances and drivers standing by and calling out their destinations.
Camionettes: Camionette is another name for pickup truck employed as a taxi to ride its passengers to destinations inaccessible to buses and louages.
Trains: Trains run by Société Nationale des Chemins de Fer Tunisiens (SNCFT), although less frequent, make for a comfortable journey. Some express trains run between Tunis and Gabès via Sousse and Sfax. A branch line also runs between Hammamet and Nabeul on Cap Bon.
Ferries: Two regular ferries are scheduled to serve the commuters. One connecting Sfax and the Kerkennah Islands during summers and the second one connecting EI Jorf on the mainland to Ajim on the island of Djerba.
Cairo, Egypt
Cairo boasts of multiple modes of transportation at affordable rates for residents and tourists alike. Let us explore the different platforms of public transport in Cairo that make Cairenes swear by it.
Mini-bus and Micro-bus: Cairo has the regular Mini-buses operated by the Cairo Transportation Authority (CTA) and Microbuses (meekrobas) run by private companies. These buses are the most affordable way to commute for example from the airport to different places around the city. There are also some new air-conditioned variants that ply longer routes between city center and the suburbs.
Trams: Cairo is also equipped with a tram facility since 1896. The three different tram lines are operated by the Cairo Transportation Authority (CTA).
Subway: The subway is the cheapest and the fastest means of transport for Cairenes. It is a comprehensive and dependable transport solution that runs every 6 minutes at scheduled times from 5.30 am until midnight. The system is easily comprehensible with the help of a metro map, to help you get around the city.
River Bus: The River Bus operates at a nominal fare from Downtown Cairo to Giza, every 15 minutes, by way of Cairo Zoo and the University (The American University in Cairo).
Nairobi, Kenya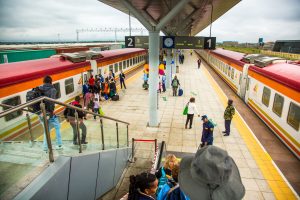 The current public transport system in Nairobi covers the industrial and residential areas around the Nairobi City Center and the Nairobi Railway station, including some portion of Nairobi's suburbs. Let us have a look at some of the popular modes of public transport in Nairobi. 
Matatus: The most prevalent way of getting around Nairobi is the Matatu. Starting in the City Center, Matatus are shared min-bus taxis, that cover nearly all of Nairobi's destinations including the suburbs. 
Buses: Lots of private companies operate buses on the same routes to provide cheaper substitutes for Matatus.
Trains: The train service in Nairobi is the cheapest mode of public transport in the city which was set up in the early 80s to provide a cost-effective means for commuters. These trains running on weekdays, converge at the Nairobi Railway station and cover the neighborhoods of all social classes.
Boda Bodas: Being highly maneuverable even in the worst of traffic jams, Boda Bodas or motorbikes make for an ideal choice of transport for trips to destinations not covered by matatus, buses or trains.
Tuk-Tuks: The Tuk-Tuk is an amalgamation of a taxi and a motorbike on three wheels. Mostly spotted at Nairobi City Center, Tuk-Tuks are cheaper substitutes for taxis, ideal for smaller distances within the city.
While the above 5 cities boast of the best public transport facilities in Africa, the efforts of the public authorities in other African countries should not be overlooked. It is astonishing, how many African countries, including Ghana, Botswana, Tanzania and Senegal, have managed to upgrade their public transport systems and make them comfortable, safe and reliable.